Noble Records
from the Whan Collection
hosted by Noble County Public Library
Please help keep this free site available by using it only for personal family research.





Noble County records generously provided here include information from the vast assemblage of data gathered by Martha and her husband, Harold Bushong. One of the most knowledgeable researchers in the county, Martha is a charter member of the local genealogical society; does Noble County research; has written genealogical columns for area newspapers; has written and published several genealogical and historical books for the genealogical society; and she has written the monthly Historical Society newsletter for fifteen years. They have both generously contributed their time and money to the preservation of Noble County history. The Bushongs can be contacted at Albion IN 46701, telephone 260-636-7367. Please be sure to include a self-addressed stamped envelope with written requests. Charges are made to offset expenses, since the price of gasoline has gone through the roof. The minimum charge for a courthouse search is $10.00, payable in advance.
Records obtained from microfilmed Albion newspaper clippings, obituaries, death notices and wedding anniversary announcements.



Divorces: News Items about divorces records - Published from 1851 to 1952

More divorce records may be found in the Divorce Records of this site.


Marriages: A-K L-Z

More marriage records may be found in the Marriage Records of this site.



Obituaries and death notices:
More obituaries may be found in the Obituary Section of this site.


Train Accidents:
Train Accidents News Clippings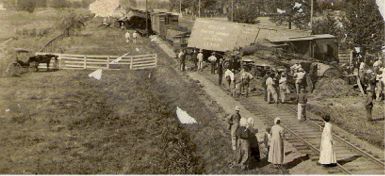 Train wreck near LaOtto

Old Jail Prisoner Index - 1881 - 1938