Return to Scrapbook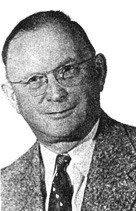 Thurlo C. HOLCOMB was born April 19, 1894 in Noble County, IN. His parents were Elmer and Leona SKEELS HOLCOMB. He graduated in 1912 from Wolf Lake High School. He attended Indiana Normal, Tri-State College in Angola, North Manchester, Winona College, Gregg of Chicago and Indiana University. In all, Mr. HOLCOMB was in the education field in Indiana for 43 years.
Mr. HOLCOMB began teaching in Allen Twp., Noble Co., IN in 1913. He also taught at Wayne, Green, Elkhart and Washington Twps. in Noble County. He was also principal of North Ward Elementary School in Crown Point, IN and taught at St. Joseph and Howard counties (in IN) and Summit County (in OH). He retired from teaching in 1963.
He married Carrie WHEELER (also a school teacher) and they lived in York Twp., Noble Co. They were active members of the Asbury Methodist Church in Albion. Some of the organizations Mr. and Mrs. HOLCOMB were active in were:
Noble Co. Historical Society
Stone's Trace Historical Society
Northeastern IN Historical Society
IN Retired Teachers Assn.
Noble Co. Retired Teachers Assn.
Albion Masonic Lodge
Albion American Legion Post 246
The Camera Club
Mr. HOLCOMB authored and compiled the books Early Schools of Noble County, Vol. 1 and Vol. 2 and Ghost Towns of Noble County.