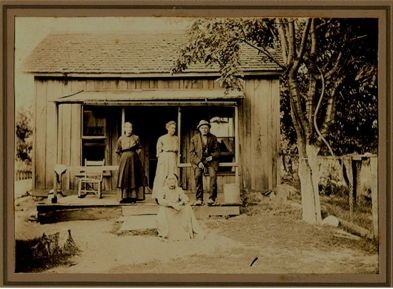 From left to right, "two cousins from Indianapolis", George Hilliard, and (sitting on the step) Martha Maria (Waldron) Hilliard. George Miller HILLIARD born 26 Feb 1835, OH, married 10 Feb 1863, in Noble, IN. Martha Maria Waldron, born 30 May 1845, Elkhart Twp, Noble, IN, (daughter of Lewis Waldron and Sabina Holden) died AFT 30 MAY 1919, Brimfield, Noble, IN. George died 26 Apr 1916, Brimfield, Noble, IN, buried: Orange (Osborn) Cemetery, Noble Co., IN. The Noble Co., IN 1910 census lists occupation as junk merchant.
From George's obit: SEVENTH STROKE CAUSES DEATH George Miller Hilliard, age 81 years and two months, died at his home in Brimfield at 1:30 o'clock Friday morning. He was born February 26, 1835 in Ohio. In early life he followed the trade of a carpenter, but during his declining years he lived a retired life.
From Martha's obit: Mrs. Martha Hilliard, widow of the late George Hilliard, and a pioneer resident of Orange Township, died at her home in Brimfield, Monday, after a brief illness, aged seventy-four years. Her husband died two years ago.