To Schools Index
Wolf Lake School
Located in Noble Township, Section 9, the school pictured at the left was built in 1882 on Main Street in Wolf Lake. It was replaced by a new brick structure in 1914. The first records of a school house in Wolf Lake was found in Goodspeed's 1882 History of Noble County as being built in 1850. "The framework was done by the citizens and then W. W. Noteman was employed for $250 to complete the job. The house was used some ten or twelve years before being replaced by the present one." Prior to that, the front room of a dwelling, and then the Baptist Church, was used for Wolf Lake school purposes.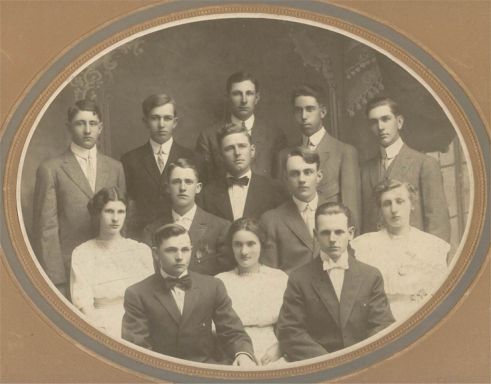 Graduating Class of 1913
Front row: Ted Hile, Beulah Huntsman, Carter Richmond.
Second row: Blanche Vanderford, Wayne Thunander, Walter D Stump (Principal), Harvey Ott, Mamie Bonar.
Back row: Dae Targgart, Victor Reed, Barney Hile, Ralph Denney (Superintendent), Max Rapp.
contributed by Adam Barrone