To Schools Index
Stanley School
A log structure was the first Green Township school in Section 4, built in the 1840's near William Bowen's property. Subsequent frame and then brick buildings became known as the Stanley School, named for nearby landowner Henry Stanley. In March 1916, the brick constructed school was destroyed by fire, including all the desks, furnishings and books of the pupils and teacher. The replacement brick one-room school is currently used as a Nature Center within the Chain O' Lakes State Park.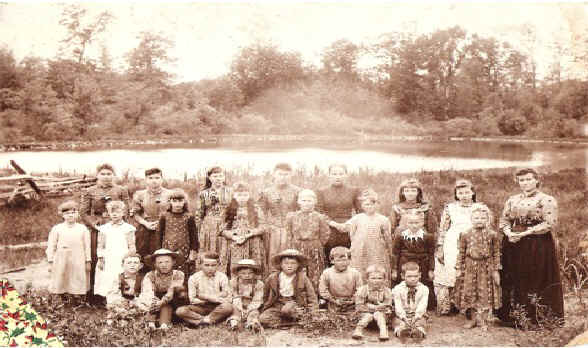 Photo taken in 1893 by little lake near Stanley School

Can you help identify the students?


Early Schools of Noble County
by M A Love
My knowledge of the early schools of Noble County is somewhat limited, confined more to my own experience in teaching.

In 1840 I came with my parents to August, then the county seat of Noble County. It was just after the Indians had been taken away. There had been no arrangements yet for schools, but some of the citizens who had come here to make a permanent home were making an effort to start one. They were John Bowman, William Crispell, Michael Coon and Hiram Bassett.

There were a number of children in and about town and they soon had enough subscribed to commence. I was employed to teach. I taught several terms in different rooms wherever we could get them. The last term was in the county jail, or rather in one room of the jail building. Our mode of teaching then was different from these days. Our mode of punishment was different too. There are some here today who may possibly remember how that was done. Some time later Mrs. Love came and taught several terms. I believe that was all the schools August had.

In 1844 I commenced teaching at Rome City. It was their first school. They had no school house. The only room to be had was the bar room of the Hurdy House. We began with ten or a dozen scholars; we made a fairly good beginning that season. We were often interrupted by travelers who came in without ceremony and left in like manner, disgusted, I presume, on seeing a school ma'am instead of the landlord in the bar room.

The next summer I commenced a second term in a new log school house with an average of 25 scholars. Some were from other districts. We had an interesting school. They took an interest in the work. I commenced by teaching reading, writing, spelling and arithmetic - other studies came in afterward. I set copies and made pens out of goose quills. They paid me $1.50 a week, and I boarded around. Some of the families lived in one room in canal huts. It was a novel way of living, but they were all good people and I enjoyed it.

I lost my mother about that time and quit teaching from home. I am gratified to know that my pupils of that day have all become useful citizens. Some of the boys are prosperous and intelligent farmers. One is the elder in the Methodist Church. One has been recorder in our county; and not one, to my knowledge, has ever been a saloon keeper.

I would like to add this much. We traveled in those days on horseback. We would go from Augusta to Lisbon to attend parties, meetings, etc. There was no Kendallville then - that was the Mitchell farm. We would take an Indian trail through the openings which led us right through here where Albion is now located. That was long ago and I think I am the only one left of that day to tell the story.

Read at Old Settlers meeting in Albion, June 3, 1897
Noble Notes: The sooner you fall behind the more time you'll have to catch up.