To Schools Index
Rehoboth (Walnut Crossing) School
Located in Jefferson Township Section 28 at the southwest corner of 275E and 125N, this brick building was constructed in 1877 at a cost of about $1000. Number 8, it was also named the same as the nearby church. All one-room schools in Jefferson Twp were closed in 1947 and the students bussed to Albion and Wolf Lake. This particular building stood until its date with the wrecking ball in 1982. The first school taught in Jefferson Twp, however, was in a small cabin on the farm of David Herriman in the winter of 1838.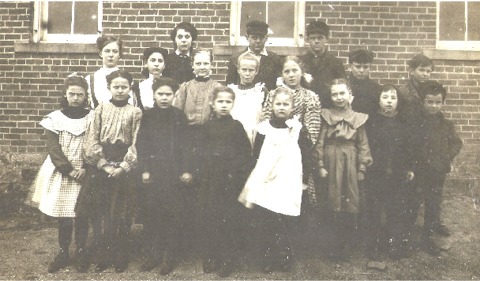 1904-1905
Left to Right, Front Row: Bessie Waugh, Hazel Benward, Alice Lock, Blanche Lock, Velma Guthrie.
Second Row: Alice Schauweker, Fern Hines, Muriel DeCamp, Florence Rodian, Juanita Guthrie, Frances Glass,
Walter Schauweker, Dewey Hiatt.
Back Row: Teacher, Mamie Cockley, Cullen Prouty, Lee Waugh, Homer Hiatt, Earl Hiatt.
Noble Notes: Procrastinate now, don't put it off.