To School Records
LaOtto School
The first record of school in LaOtto was that of a gathering of students in 1872 at Simon's Hill. In 1901, the building shown here was constructed at a cost of $5,950 at the corner of Bilger and Tamarack Streets. Furniture was $160, and the furnace cost $600. In 1902, the first graduates were recorded. In 1910 a 4-year high school course was offered. The last high school graduating class was recorded in 1937. In 2007, LaOtto, part of the East Noble School Corporation, continues to offer elementary education in a building constructed in 1965 at a cost of some $400,000 at a location along Highway 205.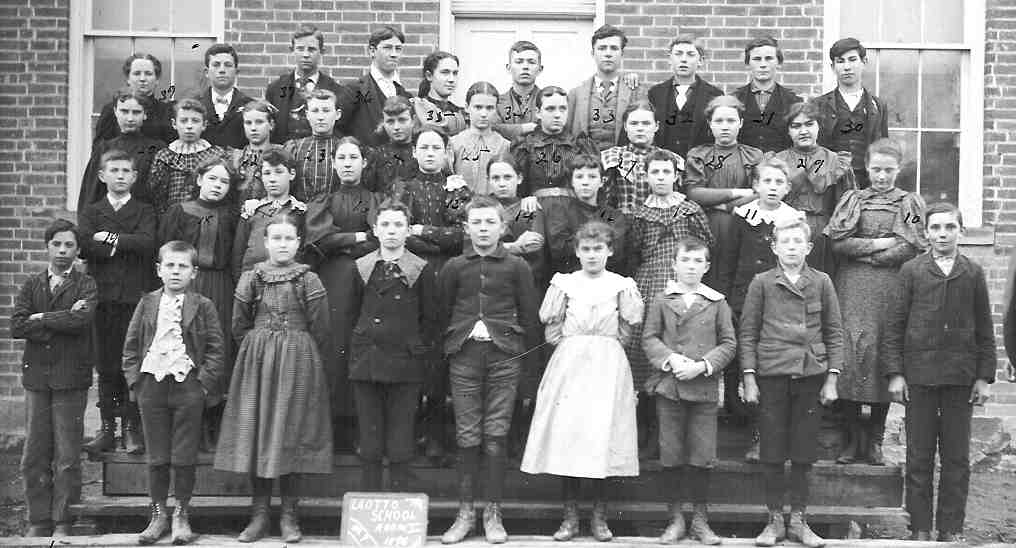 1896
Front row: -- ?, -- Dudley, -- Young, -- Simon, Archie Coil, Nettie Dudley, Floyd McCurdy, Maurice Zimmerman, Charles Shoaff.
Second row: Lodie Simon, Maude Gorrell, Elbert Simon, Ida Bricker, Mabel Bilger, -- ?, Mina Deal, -- Kerr, Roy Baker, Edna Bilger.
Third row: -- ?, Aldie Biddle, Zerelda Malahan, Jennie Iler, Grace Bradley, Edna Baker, Minnie Merrill, -- ?, Anna Bruce, Blanche Benton.
Back row: Myrtle Zimmerman, Clifton Holbrook, Archie Baker, Ira Young, Lillie Simon, Charles Nelson, Terry Worman, Nathan Coil, George Kiser, Purl Baber.

Photograph contributed by Wayne Thompson