Green Center School
The first recorded schoolhouse in Green Twp was erected in 1843. Residents Gaff, Ott, Gray, Bonar, McDaniel and others met one morning with axes, teams, etc., and by evening the structure was erected with puncheon floors and door and desks made of sawed lumber. The building eventually rotted down. Located in Green Twp Section, Section 21, the school pictured at the left was constructed in the 1870's and was replaced at the southwest corner of 300S and 300E by the school pictured the right in 1954, Green Twp being the last of the Noble County schools to abandon the old one-room schools. The building at the right served as a school until 1983. It now serves as a Community Meeting Center.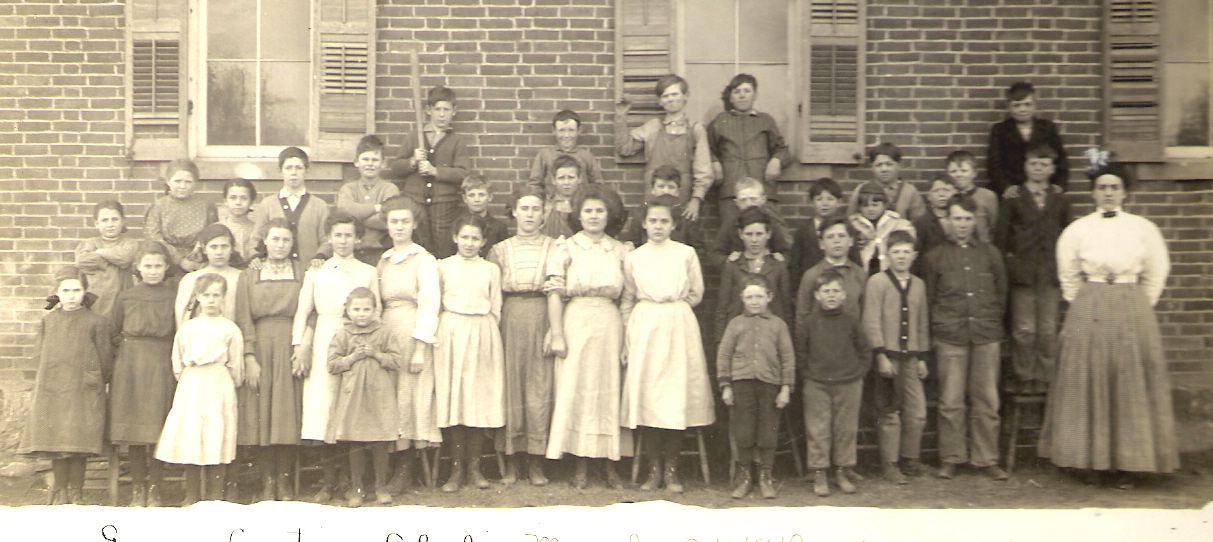 1910
Left to Right Front row: Gertie Addis, Hazel Pippenger, Herbert Snell, Clare Kesling.
Second row: Eva Diffendarfer, Edna Pippenger, Hazel Hollenbeck, Beulah Wright, Laura Kesling, Gladys Moore, Goldie Hanlon, Bessie Addis, Bessie Tague, ? Heltzel, Ben Addis, Orvill Heltzel, Rollie Keller, Virgil Snell.
Third row: Viva Pippenger, Ethel Pippenger, Hazel Stanley, Aubrey Stanley, Alva McCoy, Jesse Henry, Hugh Russell, Bernard Henry, Ralph Keller, Leslie Henry, Merle Leitch, Devoid Leitch, Glen Veazey, Allie McCoy, Leroy Veazey.
Top row: Joe Tarlton, Wright Russell, Forrest Moore, Eugene Tague, Glen Keller.
Teacher, Hutoka DePew

Truancy Law Violations - January 1900
Truancy officer, B. F. Bowman, swore out warrants last Friday for the arrest of Amos Engle, one of the patrons of the Hill School in Jefferson Twp, James Tarlton, a patron of the Sugar Grove School in Green Twp, and Michael Yankowski, a patron of the Huckleberry School in Green Twp, for violations of the truancy law.

They were arraigned before Justice H R Veazey, Friday. Mr. Engle pled guilty and was given a fine, with which the costs amounted to $10.55. Messrs. Tarlton and Yankowski pled not guilty and stood trial. They were found guilty; and the former's fine and costs amounted to $12.15; and the latter's to $11.70. Yankowski's excuse for not sending his daughter to school was that it cost too much to buy overshoes. He could have purchased quite a number of pairs for $11.70.